Blockchain Technology Solutions
In the rapidly evolving digital age of emerging technologies, blockchain is continuously progressing, reshaping the lives of people and facilitating through secured and trusted data and transactions. With an enriched market experience in nft marketplace solutions, we help our clients build and manage reliable blockchain solutions and smart-contract solutions. Our goal is to harness the power of blockchain along with real-world applications and integrated systems while leveraging the latest tools and technologies.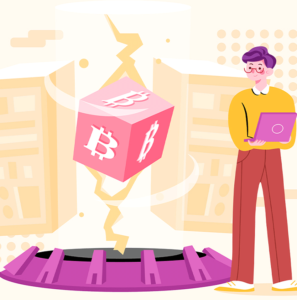 planning & strategy
We communicate articulately with our valuable clients in order to elicit their key requirements and adapt strategies accordingly. Netdivs blockchain solutions and services include:
Cryptocurrency & Blockchain Development (POS & POW)
Smart contract development
Trading & financial management applications
Wallet development
erc20 development
We join hands with well-reputed organizations and individuals to embark on blockchain development and transformation journeys. Whether you need to design your blockchain solution from scratch or looking to enhance your existing blockchain infrastructure, our team of solidity programmers is looking forward to helping you.
Blockchain-based technologies:
Blockchain-based technologies cut out the middleman and with no third-party involvement, transacting is significantly cheaper, secure, and efficient for businesses. Our in-house blockchain specialist team is equipped with proven expertise to assist clients with smart-contract solutions while keeping abreast of contemporary industry demands and technology advancements. The values that we deliver to clients for their business and services place a high premium on automation, security, transparency, traceability, and efficiency. We believe in supporting our clients in unlocking their value and reaching maximum potential by taking into account their cost, quality, and performance objectives.
Working Strategy:
The process starts with strategy assessment where we evaluate blockchain's applicability and analyze the business impact to help our clients define, prioritize, and customize blockchain transformation roadmaps. Our blockchain specialists are highly trained in offering client-centric services and are fully accustomed to meeting the requirements and preferences of clients associated with a diverse range of sectors and domains.
We plan, devise, and execute robust strategies aimed at deploying novel blockchain solutions to manage financial transactions while stimulating business performance, improving processes, and streamlining multi-faceted financial operations in real-time.
By adopting a private blockchain that can be instituted and scaled to meet personalized business needs, one can establish transparent and maintainable agreements between different stakeholders.
Our Team Vision:
Our prime goal is to provide our customers with services that are of the highest possible quality, while also making strenuous efforts to improve transparency, reduce risks, and keep functionality at its highest possible level. Together with our customers and other stakeholders, we work together to formulate a strategy that will lead us in the correct direction and construct a future in which visions will be turned into realities.
How we work:
Strategy Assessment & Hands-on training
Rapid prototyping
Build Solution design & implementation
Ecosystem management
Why Choose NetDivs Solutions?
Our team deeply analyses the client's business infrastructure to track flaws and identify opportunities that can be addressed by our fully customized blockchain technology solutions. After actively engaging with clients we provide them with a prototype solution to proceed further and overcome certain challenges and problems. It is our top priority that the end product meets core customer requirements while meeting the defined standards and regulations